The Family HOME
THE ORIGINAL HOUSE
I was brought up in the 1950's, along with my twin brother, twin sisters and elder sister, in a large three bedroom weatherboard home in the leafy Melbourne suburb of Surrey Hills. It was set on a large corner block with tall shrubs growing around the property line behind a honeycomb rock edge beside the foot path. I also remember that there were three young Oak trees in the corners of the property.

There was a concrete veranda which went across the front and two thirds of the way down each side of the house. Many hours were spent playing on that veranda when the weather was wet. An archway announced the front door.
When you entered the house from the front door you walked straight in to a large hallway which was also two thirds of the length of the house and as wide as a room. We had used this hallway a few times to put on charity concerts. The first room on the left of the hallway was my parents' bedroom. The first room on the right was my sisters' bedroom. My three sisters all shared one bedroom in their early years. Further down the hallway the next room on the left was the bathroom. I remember it being quite large. Next to that was a walk in pantry. I remember my mother also used to do the ironing in there. Opposite that and next to my sisters' bedroom, was the lounge room. All of these rooms were quite large. As you made your way out the other end of the hallway, you went directly into the kitchen. Off to the right of the kitchen was another bedroom where I and my brother slept. Off to the left was the dining room, which had a door joining it to the pantry. I also recall that the dining room had a fireplace in it.
The back door was directly off the kitchen and lead out to a wooden veranda which went across the full width of the back of the house. At the left end of the veranda was the toilet. At the other end of the veranda was a small courtyard and on the other side of the courtyard was a bungalow, which my father used as a woodwork workshop. In front of the back veranda, at ground level was the laundry or wash house, as we used to call it. Beside the laundry on the left were the veranda steps leading to a pathway which went down to the stable, feed room and coach house. The stable was used as a general storage area - the feed room had the mower and other tools stored in it and the coach house was where Dad stored all his timber, on shelves and sorted into sizes etc. On the right of the path was a chicken house where there was a plentiful supply of eggs and chickens. I remember that it was one of our chores, to feed the chickens and clean out the chicken house.
My twin brother and me in front of the stable and coach house.
Behind that and covering a majority of the back yard was an enormous vegetable garden. It would have easily been 20metres x 30metres and was divided into two by a lawn pathway. At the bottom of the vegetable garden my father had built a nine or twelve foot high climbing frame with a swing and a see-saw attached for us to play on. On the other side of the vegetable garden he had built a large sandpit. near which was a large rotary clothes line. The clothes line often got more use than the sand pit from us kids. We used to hang from it and push each other around. Also, beside the sandpit, my father had put in a basketball ring for my eldest sister.

1. This is the climber/seesaw/swing my father built. 2.This is a pear tree. One of many fruit trees planted on the property. 3. Family standing in front of dad's workshop. 4. Family standing and sitting on the old sand pit in front of the old cloths line that we used to swing on.


1. This my twin brother. Stable behind him, chook house on his left,veggie garden behind him on his left. 2. Here he is in the area between the house and Dad's workshop.

1. One of my twin sisters sitting on the back veranda with my nephew. 2. Our cat sitting on the briquette box in front of the outside WC on the end of the back veranda.
Looking at the workshop from the back veranda.
Apart from the vegetable garden there were numerous fruit trees scattered about the property. Blood plums, cherry plums, crab apple, pear, apricot, greengage, pomegranate, fig and lemon. From these trees my mother would produce jars and jars of jams and conserves. Some would be given to friends and family and some would be donated to sell at the local church fete. Of course we always had a supply of jam to plaster on bread as a snack after school. Also when the fruit was ripe enough, it was there for the picking as a snack which I quite often did. As well as fruit trees I remember there being a hazel nut tree, but I don't ever remembering getting any nuts from it. There was also an enormous bay leaf tree which we often used to climb on.
RENOVATIONS.
As time went by, It became obvious that my three sisters could not share one bedroom anymore. So, some renovations had to be carried out. Firstly, my father set to, building a whole series of cabinets and benches for the kitchen. Then everything from the pantry was put in the kitchen. The pantry was now turn into a bedroom for my eldest sister. The dining room was turned into a bedroom for my twin sisters. Next, my sisters' old bedroom was converted into the lounge room and the old lounge room became the family/dining room. In addition to this, all of the floors were sanded and polished and a double sliding created in the wall between the family/dining room and lounge room. Now, when you opened the sliding doors and the doors off these rooms into the hallway, it created a very large area in which to entertain. All of our 21st birthday parties were held at the house.
The bathroom also got a make-over. An extra shower recess was installed as well as a new wall cabinet which my father had made. The hot water service was changed from gas to electricity. Of course that did not change problem of a race to be first into the shower after dad.
MOVING AWAY
My elder sister moved into a flat and my twin sisters eventually got married and moved away from home, so I moved into there bedroom giving my twin brother and I a separate room each. Then he got married, which left only me and my parents. At one stage I did move away into a rented flat, but it got a bit to costly so I moved back home again.
Well I suppose that my parents now thought that the house was to big for them, because in 1971 they sold up and we moved to a smaller place at Knoxfield. The house at Surrey Hills was bought by a developer and was consequently demolished and three large units were built on the block.
After the settlement date for the sale of the house, we temporarily moved in with my elder sister at Ferntree Gully which was not far from where the new house was being built.
The house at Knoxfield was a lot more modern and smaller than the old family house at Surrey Hills. Personally I did not like the design as I was used to more room around me. My bedroom was just big enough to fit my bed, desk and piano in it, which left just enough room to open the wardrobe doors. It was a four bedroom house with an ensuite in the master bedroom, but I think that the bedrooms were a little on the small side as was the family room.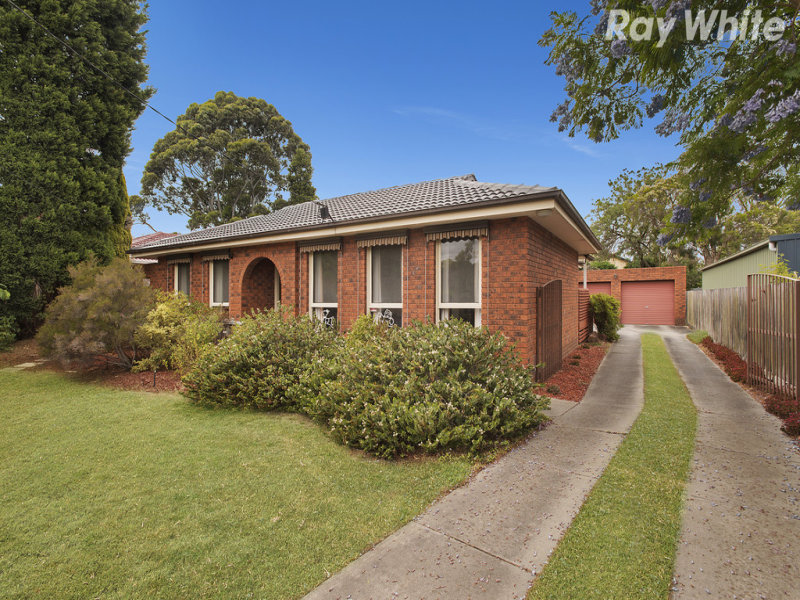 My parents house at Knoxfield.
Anyway, it wasn't for me to say anything to my parents about it, as this was their retirement home and it was on the cards that I would probably not be there for that long anyway. Sure enough, by June 1975 I had met my wife and by the end of that year we had bought a house in Ferntree Gully and I was living in it for six months before we got married in June 1976.
MY OWN FAMILY HOME
Now I had my own family home, and a whole new freedom of doing what I wanted with it. It was only a small 3 bedroom home of nine and a half squares, but had plenty of extension potential. The back yard was good and large, and pretty much a blank canvas as far as the garden was concerned. The property had a sixty foot frontage and a depth of a hundred and sixty-eight feet. A lot bigger than what you would get today.

Our home in Ferntree Gully Victoria.
Over our ten years in that house we did a few things which improved the sale value. Firstly I had a drott come in and extend the driveway into the backyard with a turn around area at the end of it. I then installed a D.I.Y zincalume garage in the back yard. Next we got rid of the space heater and put in gas ducted heating. I installed all of the ducting myself as there was heaps of room under the house in which to move around. Of course I got a plumber to put in the heating unit and remove the old space heater. But the big improvement was when we extended the house by adding on four more squares. We had the kitchen removed and I designed a new kitchen for the extension. The old kitchen then became a formal dining area after knocking out a wall between the old kitchen and lounge room and having an oregon beam installed. The old kitchen benches were put in the end of the garage and I used them as my workshop. The rest of the new extension was family room. It made an enormous difference to the house and once again, I had that feeling of lots of room around me. After the extension was built I packed the family of to the in-laws for Easter while I installed a cork floor over the whole four squares. Boy, it was a lot of hard work, but worth it in the end as it came up a real treat.

The series of photos above show the progress of the extension at our Ferntree Gully home.
A BRAND NEW HOME
Well, as I said, we stayed there for ten years (1975-1985) until I saw an advert in the paper for a block of land for sale in Mornington. We decided to take a drive and check it out. Before we knew it we had signed on the dotted line and were on our way to building a brand new home. It was quite an on the spot decision, which meant that when we sold our home, we had to rent for 6 months while the house was being built.

Our home in Mornington on the Mornington Peninsula in Victoria. Before I landscaped the garden.



The land had a 90ft frontage and was nice and deep, but not as deep as the last place, about 133ft and was on a corner which was a big plus. The outlook was very different to the last place as we were on the top of a small rise and could see into the distance which gave us a feeling of freedom. The new home we built on it was a 3 bedroom home about the size of what we had just left, 14.5 squares. Now that is small compared to what the young couples are building today, but we manage to bring up a family in it and never felt like we needed more room.
We did not have a garage for a while so our little Mazda Capella and Mazda 1300 had to be parked in the backyard out in the weather. But after two years, we had saved enough to by another D.I.Y kit zincalume garage and build it with only a gravel floor though. Concrete would come later. And yes, I did move my old kitchen benches from the old house to the new one and put them into the garage for my temporary workshop.
The task of landscaping had to be tackle, so after putting pencil to paper, I came up with a satisfactory plan for the front yard. Two large circular gardens with honeycomb rock edges, in which I would plant roses (16 in all) and conifers. Against the house I had a garden in which would be a series of shrubs and geraniums. The land was higher than the road and had a batter along the boundary, so I had to construct a sleeper wall two sleepers high. That then gave rise to some steps at the corner of the block, the west end and opposite the front door. Either side of those steps I planted Swains Golden Pencil Pines. I had to back fill behind the wall and that gave rise to planting a Grevillea Rosmarinafolia hedge along the top of the wall. 90ft is a lot of plants, so I bought really small ones which would grow just as good as large ones. It just took a little bit longer.
Moving around to the back yard and the first job to tackle was a fence along the side street boundary and down to as far as the front of the house. I put in a garden bed along the east back yard boundary and west back yard boundary. In the east I planted azaleas and in the west I planted camellias. A sandpit was constructed for the kids along with some play equipment. As time went by, the kids grew out of the play equipment and sandpit, so I removed it and constructed a paved patio with a pergola and picnic table. Next , two large native gardens were made one of which now attracts an eastern spine bill honey eater every year during April to October.
The final piece of the garden was a water feature near the front door. It consisted of a top pond going into a stream and finishing at a larger bottom pond. the stream meanders through the azaleas. A shade house was constructed over the bottom pond so that we could plant a tree fern.
After my Mother passed away, I received a small inheritance, so I used it to build another garage onto the front of the other one and a tool shed onto the back of them. The old garage now became my woodwork workshop and hobby room and over the years I have gradually equipped it with lots of woodwork machinery and tools. ( see My Hobbies, Interests and Activities pages.
Woodwork-Furniture
,
Wooden Toys
and
N Scale Model Rail
).
The years rolled by and as children do, they left the nest. So, with the passing of my wife's parents, another inheritance was forthcoming. The house was now about 30 years old so some renovations were in order. Firstly we had the roof cleaned and painted along with the installation of new fascia and guttering. A new kitchen with a new floor covering then a complete new bathroom was installed as well as new tiles in the laundry. The boundary fences were replaced and a power gate installed at the driveway.
We change the function of some of the rooms as well. The kitchen/family room now became the kitchen meals area. The lounge/dining area now became just the lounge room. Bedroom one became the study and bedroom three became the spare room.
A few more years went by, and we found that, owing to some health issues I was having, the garden was starting to get just a little to much for us to maintain. So we started to look around for our next home and discovered the over 55's lifestyle villages at Lifestyle Communities.They have 19 communities throughout Victoria. When you buy into one of these villages, you are not just buying a home. You are also buying a lifestyle. Everything is there for you. There is a heated indoor swimming pool and an outdoor solar heated swimming pool with a cabana, a gym, bowling green, croquet green and a workshop. There is a 24/7 club house with reception area, a theatre, a library/computer room with internet, billiard room, utility room for hobbies, large community kitchen, function room for family get togethers and a barbecue area just outside the club house. This is all included in the price you pay for the home that you buy within the village. The front garden is very small makes up the streetscape and is maintained by the village staff. The back yard is also very small and is your responsibility and being so small it should not be a problem. You own the home but pay rent for the land via a 90 year lease. If you are receiving and government payment such as a pension, you are eligible for rent assistance.
The village is the supplier of your utilities, IE, gas, water and electricity. The landline telephone service however, is your responsibility to get connected. Each home is connected with optic fibre right into the home. once you have organised your supplier it is just a matter of plugging in your modem and/or telephone.
So we decided to go and have a look and see if it would be the sort of thing that we could move into. We spent nearly four hours there looking over the club house and the grounds as well as all of the display homes they had on offer. After a second visit and some more research, we decided that this was a move that we could do. We put a holding deposit on our selected home, but we were not yet locked in to a contract. We still had two months to make sure that this was the right decision for us and we could change our mind if we wanted to. After a lot of discussion and soul searching, we made the firm decision to commit to our next stage in life and move into the lifestyle village. We had 180 days (6 months) to sell our current home.
So now we had to start to get our current home ready for sale. There were a few little repair jobs to be taken care of and lots of sorting out of what to keep and what to dispose of. Fortunately, the home that we will be purchasing, is roughly about the same size as our current home so most of the furniture will be moving with us. Most of the sorting out will be confined to smaller items like ornaments, kitchen hand appliances, crockery and cutlery as the kitchen is slightly smaller than our current one. Also workshop tools as there was no room for a large workshop. However, there will be a men's shed within the village, so some of my tools might go there, but I am still working on that problem. We will not need many gardening tools as the garden is very small as is the shed. Just a few hand tools and an electric mower I would imagine. We have many pot plants at the moment, so that will probably make up the bulk of our garden. Easy peasy!
Finally, after lots of preparation, we got some agents in to give us their appraisals. They were all very close in there appraisals which made it very hard to make a decision. But after much discussion it finally came down to the bottom line and we chose a fixed price agent as apposed to a commission agent, saving us approximately $15,000. We figure that the extra money was better in our pockets than theirs.
So, the house went on the market and we had many open house sessions which, judging by the online interest, proved to bring in quite a few interested buyers.
The house had been on the market for four months and we had not had a satisfactory offer. Then, finally, got we an interested buyer who made an acceptable offer and who, incidentally, had been following the sales campaign from the start and had made some previous offers that were unsuccessful. The contract was drawn up and signed. The family home that we had built from scratch, in which we had raised our children, developed the garden, renovated, decorated with all manner of ornaments and paintings and books. Where I had developed my hobby of toy making. This house, which was our home for 34 years, was now about to become the home of someone else.
The packing started as soon as the sale on our home went unconditional. This is when you actually find our just how much stuff you have accumulated over the years. You have to make decisions on what will be kept and what will either be passed to the children or sent to the op shop or if in fact it has to be sent to the refuse centre. I finished up packing 82 boxes of ornaments, decorative plates, vases, glassware, china figurines, clocks, heaps of printed music, tons of books and all manner of stuff, including the kitchen stuff, crockery laundry items and clothing. Where did it all come from!!!? In addition there was a full woodwork workshop to pack up and put into storage. Twelve shop machines on trolleys and heaps of hand tools and hardware. Where will I put the workshop at the new place? There really is no room for it. That is why I put it into storage. I will decide its' fate after we have moved in. We had to sort out the garden shed and decide which gardening tools we will keep. We won't need many. I lost count of the number of times that I visited the op shops with donations of our belongs, but it was necessary to reduce the amount of things we took with us. I suspect that even after we have moved into the new place, we will still be reducing.
Well, the big day had arrived. Settlement! The removal truck was loaded the day before and we had arranged to stay over night at a motel near our new home. Needless to say, we were up early the next day.
The first thing to take care of was to attend to all of the paperwork with the administrators at the Lifestyle Village, before the removal truck arrived. Once that was all out of the way and the truck had arrived, the mammoth task of moving in commenced. The Family also arrived to assist us, which was great. The removalists were not much help as they were in too much of a hurry there were a few damaged items after they were finished unloading.
I had to return to the house to collect my trailer loaded with a lot of pot plants that did not fit on the truck. When I returned I discovered that they had packed my spare room so full of boxes mixed in with the furniture, that I could not get in there to sort it all out. Instead, they should have left it all in the hallway. I finished up pulling it all out into the hallway myself.
Anyway, it all finally got put into place and to job of unpacking and settling in began. Placing furniture, unpacking boxes, filling cupboards, sorting out books and music and ornaments and deciding how to set out the kitchen and other rooms.
The garden is very pocket size. We made a conscious decision that the garden will only be made up of potted plants. It is working out very well and we are joying putting it all together. When we moved in, the lawn was that awful fake stuff, which I just hate with a passion. So, without hesitation I engaged a landscaper to install a design of the yard, that I had drawn up. It included some REAL instant turf.
Just as I had suspected, we did finish up down sizing and disposing of more items for another six months, including some of my hand tools. And the workshop? Yes.... I did manage to set up a small one in the garage/carport and it will do. I have already tested it and made a few small toys. I had to dispose of some of the more noisier machines as our neighbour is very close. For any large projects, I can always make use of the community workshop.
Front Garden and front of house
Front Veranda
Master Bedroom
E
nsuite and Walk In Robe

Spare Bedroom
Main Bathroom
View down Hallway from Front Door
Laundry
Office
Music and Book Library in Office
Lounge Area
Dining area
Kitchen
Kitchen
Alfresco Area
My little Workshop in the Garage/Carport

View of Back Garden from Garage
Woodwork Machinery under Pergola

View of Garage from Garden
Our New Bicycles
TO BE CONTINUED...........